Tomorrow, Monday, September 26, the new 2016-2017 Opera Season of the Metropolitan Opera House in NY will start with Richard Wagner's monumental "Tristan und Isolde" with Nina Stemme, Stuart Skelton and René Pape.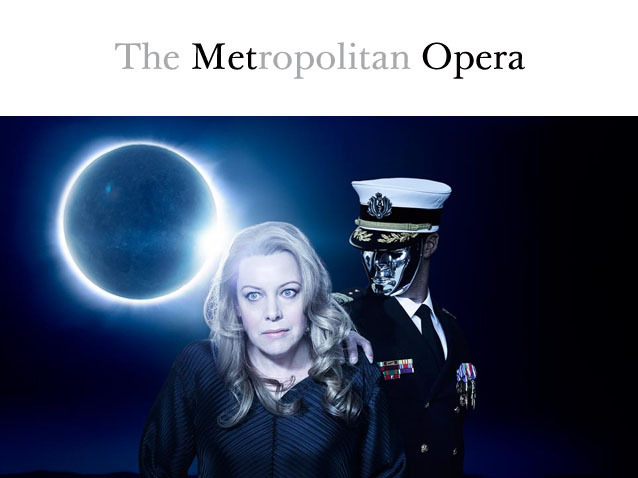 This Season's repertoire will have Eleven Italian Operas, Six  French Operas, Five German Operas, Two Czech operas, One Russian Opera and one German Opera performed in English (Mozart's The Magic Flute) .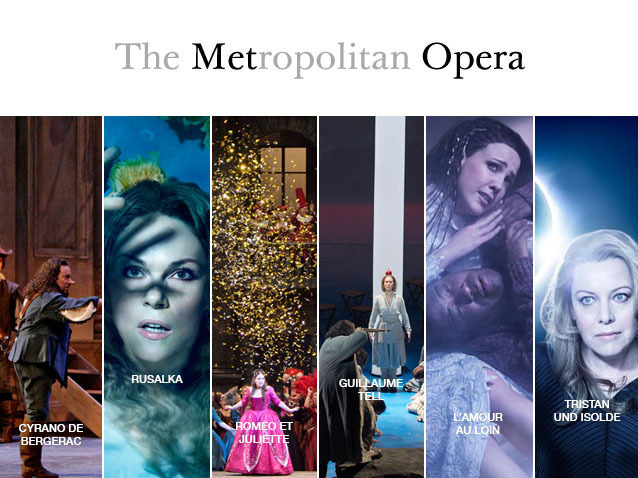 Italian Operas:
Aida (verdi), Il Barbiere di Siviglia (Rossini) La Bohème (Puccini) Don Giovanni (Mozart) Idomeneo (Mozart) L'Italiana in Algeri (Rossini) Manon Lescaut (Puccini) Nabucco (Verdi) I Puritani (Bellini) Rigoletto (Verdi) and La Traviata (Verdi)
German Operas:
Tristan und Isolde (Wagner)  Fidelio (Beethoven) Der Fliegende Holländer (Wagner)  Der Rosenkavalier (Strauss) and Salome (Strauss)
French Operas:
L'Amour de Loin (Saariaho) Carmen (Bizet) Cyrano de Bergerac (Alfano) Guillaume Tell (Rossini) Roméo et Juliette (Gounod) and Werther (Massenet)
Czech operas: Jenufa (Janáček) and Rusalka (Dvořák)
Russian operas: Eugene Onegin (Tchaikovsky)
German Opera performed in English, The Magic Flute (Mozart)
Rossini, Mozart, Verdi, Wagner and  Richard Strauss are the composers that dominated this season.
There are many interesting things to comment about this year's new season of the MET, first, Rossini's Guillaume Tell returns to the Met stage after an absence of more than 80 years and another exciting about this productions is that it is the French version in which is rarely performed in these days (compared to the Italian version).
Wagner's Der Fliegende Holländer will also return to the MET after an absence of many years and also Beethoven's only Opera Fidelio.  It is important to say that in Wagner's Der Fliegende Hollände we will have the great return of extraordinary Tenor Jay Hunter Morris in the role of Erik, after his memorable portrayal of Siegfried in Wagner's Ring a few years ago.
We will also have the return of Placido Domingo performing te baritone role of Verdi's title role of "Nabucco" and we will also have, next year, the farewell performance of Renée Fleming in her last Opera performance in Strauss' "Der Rosenkavalier"
Nina Stemme, Štefan Kocán,  Željko Lučić, Anna Netrebko, Dmitri Hvorostovsky, Placido Domingo, Renée Fleming, Thomas Hampson, Elīna Garanča, Matthew Polenzani, Mariusz Kwiecien, Ildar Abdrazakov, Ramón Vargas, Javier Camarena, Michael Fabiano, Peter Mattei, Eric Owens, Kristine Opolais, Piotr Beczala, Marcelo Alvarez, René Pape, Vittorio Grigolo, Diana Damrau, Bryan Hymel, Gerald Finley, Sonya Yoncheva, Stuart Skelton, are the many of the extraordinary Opera artists that will perform in this year, plus also in a special Opera Gala that will celebrate the 50th Anniversary of the MET in Lincoln Center.
And of course, the jewel of the crown is Wagner's Tristan und Isolde which opens this season tomorrow, Monday, the last time that Tristan und Isolde opened the MET Opera Season was in 1937.
Another important note is that with the performances of Tristan und Isolde, we will get to watch Sir Simon Rattle conducting at the MET. Something extraordinary, fascinating and rare for the Metropolitan Opera House in NY.
The operas for the simulcasts in HD for this season are:
Wagner's "Tristan und Isolde" (Oct 8) , "Mozart's "Don Giovanni" (Oct 22),  Saariaho's "L'amour de Loin" (Dec 10) , Verdi's "Nabucco" (Jan 07),  Gounod's  "Roméo et Juliette" (Jan 21), Dvořák's "Rusalka" (Feb 25), Verdi's "La Traviata" (March 11),  Mozart's "Idomeneo" (March 25) Tchaikovsky's "Eugene Onegin" (April 22) and Strauss' "Der Rosenkavalier" (May 13)